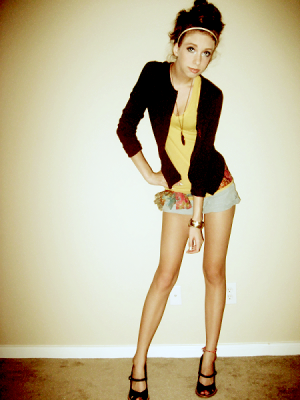 ♥
I'm fucking freezing.
I have been all day.
I'm not complaining, because I love warm blankets.
I want an electric blanket.
I think i'll be putting that on my 'Christmas List'.
I could get that for my birthday actually.
Since it's two days after christmas.
Sucks.
Total calories for today comes to around 500 calories.
I only had supper, but it was burgers and stuff.
I had one small burger and corn.
I love corn.
I also got the book, Wintergirls by Laurie Halse Anderson.
Thank you so much,
Ana's Girl
for recommending it. (:
It's an AMAZING book, and I have fifty or so pages left.
I got it last night, and I can't seem to put it down.
I'm horrible at stretching out books if I really like them.
I was going to get Wasted, but they didn't have it in.
Wintergirls was also a staff pick, which I was surprised about.
Actually, no I'm not.
I'm in love with that book.
shivershivershiverssss.
taptaptap.
I'm so fidgety today.
I keep having strange dreams about school too.
Two more days.
Scratch that, a day left.
Two nights.
I don't want to go back.
Speaking French isn't my thing.
frenchfrenchfrench.
Every class is in French.
I wonder if I'll be relieved when I'm officially bilingual.
Though I'll always regret going in french immersion.
Or will I?
Who knows.
I certainly don't.
Enough of my whining.
I want a text buddy.
But it needs to be within Canada.
Because I'm Canadian.
Eh?
Not technically, but I live there.
But whatever.
I'm in a talkative, emotionless mood.
That really doesn't make sense.
I'm still cold.
Doesn't help I'm sitting by a window, I guess.
I'm so sorry I haven't been commenting.
I've been really busy.
I feel awful, but I promise I will sometime.
Stay Strong && Think Thin
xoxo